The woman looks serious, if not a bit devilish, as she holds a hair dryer and gazes intently to the side. The large mural at the Renaissance Santo Domingo Jaragua Hotel & Casino was created by artist Omar Garcia, better known as Angurria. The artist said the mural was inspired by his mother, a hairdresser.
There are six murals on the property by Angurria, who also created murals for Lin-Manuel Miranda's film "In the Heights." The murals are located in three executive conference rooms and in the newly renovated Garden Lobby.
These works of art are just some of the Instagram highlights that await guests at this upscale resort-like property in the Dominican capital. A friend and I took a photo during a recent stay at the Renaissance.
"Renaissance Hotels invites you to connect with the destination through moments of spontaneous discovery and discover hidden gems – like art," said Manel Atie, spokesperson for the hotel. "Our walls are covered with what it means to be Dominican to such artists as Angurria and Carina Crousset. Our guests can browse our murals and learn about Dominican history and values."
The pool at the Renaissance Santo Domingo Jaragua Hotel & Casino. Photo credit: The Photographers Gallery LLC
The hotel is just steps from George Washington Avenue, better known as El Malecon, which runs along the Caribbean coast and attracts many tourists with its hotels, casinos, monuments and palm trees. A large "SD" sculpture is perfect for Instagram photos, as are the vividly colored sunsets this city is blessed with.
At Renaissance, which has approximately 300 units, luxury comes to life through color and unexpected details.
The two Presidential Suites epitomize bliss and comfort, offering a spacious retreat with comfortable furnishings and stunning décor. The dining table turns into a pool table. A colorful hammock awaits you from the balcony, promising some outdoor relaxation. There is exercise equipment for a private workout and a private kitchen that can come with a personal chef who will create a menu and prepare meals.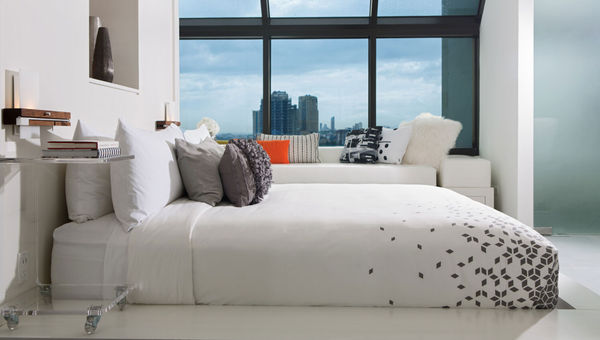 A room in one of the two presidential suites at the Renaissance Jaragua. Photo credit: The Photographers Gallery LLC
Atie said the Renaissance attracts a large number of frequent travelers, many on the road more than 100 nights a year. With that in mind, a lot of detail has gone into the hotel's fitness center.
It is open 24/7, although it is currently only accessible by appointment. The center has cardiovascular equipment, elliptical machines and treadmills with access to live TV and Netflix, exercise bikes, free weights and strength training equipment.
Zui Spa in Jaragua, meanwhile, is where guests can unwind after a long day or flight. My own spa experience at Zui was relaxing and rejuvenating, with deep strokes during the deep tissue massage.
"We haven't had a guest walk into Zui and leave feeling relaxed," Atie said proudly. "Our essential oils have been specially designed for those who wish to relax, uplift and balance themselves."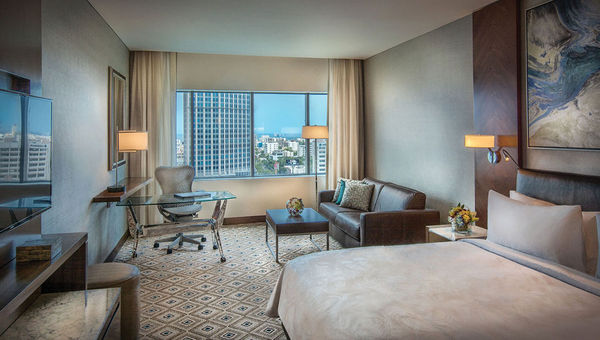 A Junior Suite at the JW Marriott Hotel Santo Domingo. Photo credit: Ira Wexler
The JW Marriott Hotel Santo Domingo
Nearby, the JW Marriott Hotel Santo Domingo caters to business travelers specializing in consulting, finance, and sports. The property has 150 rooms and is much busier and busier than its sister property, the Renaissance.
The real gem here is the Presidential Suite. At over 2,000 square feet, it offers stunning panoramic views of the city. There is a large bedroom with a king bed, a master bathroom with a Jacuzzi tub, an expansive living room, a private kitchen and an office.
The room includes a richly furnished sitting area and a desk with sophisticated decoration and refined details.
The property also includes master and junior suites on each floor that are located at the corners to provide stunning skyline views.
Until the end of March, the hotel pours its own brand of beer into its Vertygo 101 Lounge & Bar, its signature glass-floored rooftop lounge. The hotel claims that it is the first in the Dominican Republic to develop its own beer.
The beer is produced offsite by Chato, a local craft brewer.
On the city
For those wishing to sightsee in Santo Domingo, there are a variety of options. The Zona Colonial offers sights like the Museo de las Casas Reales (Royal Houses Museum) and Parque Independencia, and Three Eyes National Park, an open-air limestone cave with clear lakes, is a must-see.
Colonial Tours is a great option for sightseeing, and our guide, Rafael, was knowledgeable, friendly, and fun to spend the day with a hop-on hop-off van tour.
A lunch break took us to El Buho Cafe restaurant, which offers everything from Dominican cuisine to pasta. The frozen margaritas are a real treat, especially when sipped in the restaurant's beautiful outdoor space. My pasta was superb, but the ambiance is what really made the experience for me.
For rates and more information about the Renaissance Santo Domingo Jaragua Hotel & Casino, visit marriott.com/en-us/hotels/sdqgw-renaissance-santo-domingo-jaragua-hotel-and-casino. To learn more about the JW Marriott, visit marriott.com/en-us/hotels/sdqjw-jw-marriott-hotel-santo-domingo.
Source link