A foreign investor has been given a nod to sell three of its high-end hotels in Nairobi, including the prestigious Fairview.
The South African investor owns Fairview Hotel, Town Lodge and City Lodge Two Rivers. The three hotels stand out for their state-of-the-art facilities and rich hospitality, attracting hundreds of wealthy personalities and business tycoons.
The Fairview Hotel has 127 rooms, while the City Lodge Hotel at Two Rivers has 171 rooms and the Town Lodge Upper Hill has 84 rooms.
But in the latest development, the owner has been given the green light by the Competition Authority of Kenya (CAK) to sell the properties.
A side view City Lodge located in Two Rivers
File
The owner has already received an offer from Actis, which has expressed interest in acquiring the three posh hotels at a cost of Ksh 1 billion. The new owner is expected to fully acquire the properties by April following the completion of paperwork.
The South African investor had also revealed its intention to sell its Tanzanian hotel City Lodge in Dar es Salaam for 7.3 million Ksh.
The decision to sell all assets was driven by the investor's decision to exit the East African market and venture into other ventures in other regions.
"Due to delays in Competition Commission approvals, the extended shutdown dates have been extended to May 31. However, the remaining conditions precedent are being fulfilled and the sale is expected to be completed. concluded by the end of Apr. 2022," the company said.
The investor recorded a loss of Ksh 2 billion at the end of 2020 on its East African units. Falling profits pushed the hotel business over the edge, forcing the owner to consider exiting the market.
The hotel received clearances from the regional anti-trust body, the Competition Authority Comesa, in December, which noted that it had received information from CAK that the acquisition did not pose risks of competetion.
The agreement to purchase the three hotels is the subject of a joint offer between Actis and another private company registered in the British Isles.
The outflow is just one indicator of the difficulties facing the hospitality industry. Over the past couple of years, many hotels have exited the market while others have gone up for auction due to the country's tough economic conditions.
The iconic Outspan Hotel in Nyeri is among the swanky establishments that left the market following the outbreak of the Covid-19 pandemic.
The Treetops Hotel in Aberdares, Nyeri, where Queen Elizabeth vacationed in 1952, also closed in 2021.
Other clubs and lounges across the country have also closed despite the government shelving a stimulus package to compensate for the sector.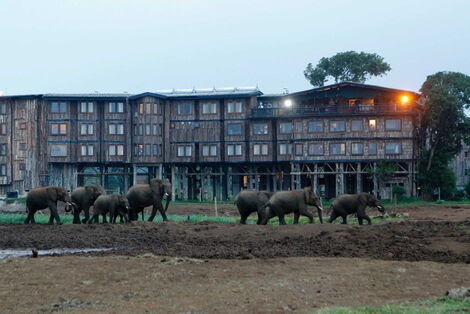 Treetops Hotel located in Aberdare where Queen Elizabeth spent her holidays
ABC News
Source link