Hotels in Alaska are gearing up for summer travel with room renovations, new wellness options and Northern Lights viewing additions. Here's a look at some of the notable updates.
Marriott Anchorage Downtown: The hotel completed a full renovation in December. In addition to updating the 392 rooms and suites with new furniture and decor, the teams added wall outlets, USB charging ports, high-speed Wi-Fi, 55-inch televisions and retro vanity mirrors. -enlightened. Designers chose neutral colors and nature-themed artwork, including abstract canvas paintings reflecting Alaskan glaciers and aurora season skies.
Promenade Cafe's interior and menus have been refreshed, as have Marriott's six event venues, which together offer 15,000 square feet of gathering space. New communal tables and charging stations for personal electronics have also been added to the restaurant and Great Room lounge on the lobby level.
Open for lunch and dinner, The Great Room serves American cuisine, cocktails and locally brewed beers. Marriott Anchorage Downtown's renovated lobby now features Alaskan Native art and Northern Lights-inspired light displays.
The Aloft Anchorage is set to open in March in the city's downtown district. Photo credit: Courtesy of Aloft Anchorage
Aloft Anchorage: Aloft Anchorage is set to open in March, bringing 146 new rooms to the city's downtown district.
The accommodations will be equipped with WiFi; 55-inch flat-screen televisions; coffee and tea in the room; air conditioner; walk-in showers; and other amenities. The four-story property will also have accessible rooms with 32-inch-wide doorways and roll-in showers, as well as hearing-impaired amenities available on request.
Nearly 3,000 square feet of event space will accommodate up to 240 people. The hotel will also have a restaurant, business center, laundry facilities, 24-hour fitness center and indoor swimming pool.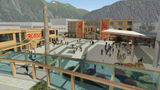 Photo credit: Sealaska Heritage Institute
When it opens this summer, the indoor-outdoor installation will spotlight art and artists from the northwest coast, headlined by members of the Tlingit, Haida and Tsimshian communities of the southeast coast. 'Alaska.
Continue reading
Alyeska Resort: Located southeast of Anchorage in Girdwood, the resort is completing construction on a 50,000-square-foot indoor-outdoor spa anchored by a European-inspired hydrotherapy circuit. The site has 12 hot and cold plunge pools as well as dry saunas, steam rooms, and an exfoliation cabin that incorporates Alaskan sea salts into treatments. The updated spa will continue to offer classic massages and a new cafe will serve wellness-focused dishes for spa guests.
Soaring Eagle Lodge: Two cottages debuted on the Kenai Peninsula property in 2021, with a third to be introduced this year. Accommodations are equipped with full kitchen and living facilities, fireplaces, and open outdoor decks to mountain and Cook Inlet views. The all-inclusive destination near Soldotna offers themed and customizable vacation packages.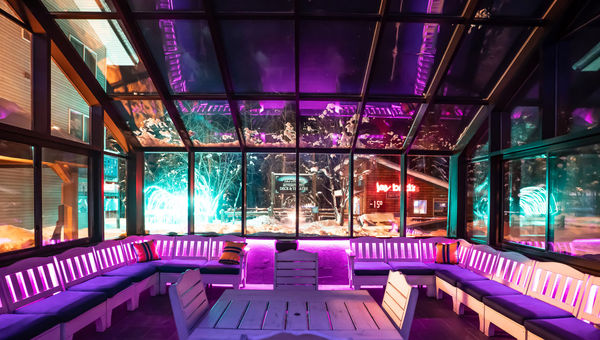 The Aurora Conservatory features three walls of glass, a glass ceiling, a fireplace, and various seating options. Photo credit: Courtesy of Pike's Waterfront Lodge
Pike's Waterfront Lodge: The Fairbanks property has introduced a Northern Lights Greenhouse for viewing the Northern Lights indoors. Located along the Chena River, the heated conservatory features three walls of glass, a glass ceiling, a fireplace, and various seating options. The resort also plans to introduce aurora-focused cabins in late 2022.
The ET Barnette building, which opened at Pike's in March 2020, is home to activities for travelers of all ages. Northern Lights and nature-themed movies play at the 14-seat Empress Theater, and visitors can play pool in an adjacent room dubbed Jay Bird's Short Cue and (Slightly) Crooked Billiards Speakeasy.
Comfy seats and stacks of books fill the 1,000-book Alaska Library, where patrons can leaf through volumes on Alaskan Native culture, Gold Rush history, local wildlife and the Northern Lights and Alaskan Experience-Inspired Fiction.
Cape Fox Lodge: Work to replace the tram connecting Cape Fox Lodge with the Ketchikan's Creek Street waterfront will be completed this spring, and the new tram will bring guests to the hotel lobby beginning May 1. A new brick oven pizzeria called Eagle's Nest is also opening at the lodge in May.
Source link