We've officially entered 'crazy spring', that time of year when even the briefest burst of sunshine gives us hope that better days are coming.
Admittedly, the weather in Manchester has been pretty fun lately – but there's plenty of cheerful sunshine on the plates of some of these new restaurant and bar openings.
From a globally-inspired seafood pop-up, to small filled plates, chip-stuffed souvlaki and gravy sandwiches from the streets of Naples, Manchester operators have been busy.
As a result, we have some cracking new openings to shout about this March.
We've rounded up some of the best new restaurants to check out this month. Keep reading to find out where to put on your list next.
Boring
A new pop-up in Deansgate Square, cocktails and small fish plates are the order of the day at Pesky.
Think seaweed martinis, Japanese okonomiyaki pancakes with prawns and cabbage drizzled with Kewpie mayonnaise, and barbecued calamari with fragrant North African chermoula butter.
Elsewhere, you'll find 'drunk oysters' served with paired shots and a mostly 'earth' section of fresh, plant-based dishes that both cut the fatty side of fish and cater to vegans.
Only here for a month, find it in front of the General Store until March 27th.
Owen Street, Manchester M15 4YB
Mira (Ancoats General Store)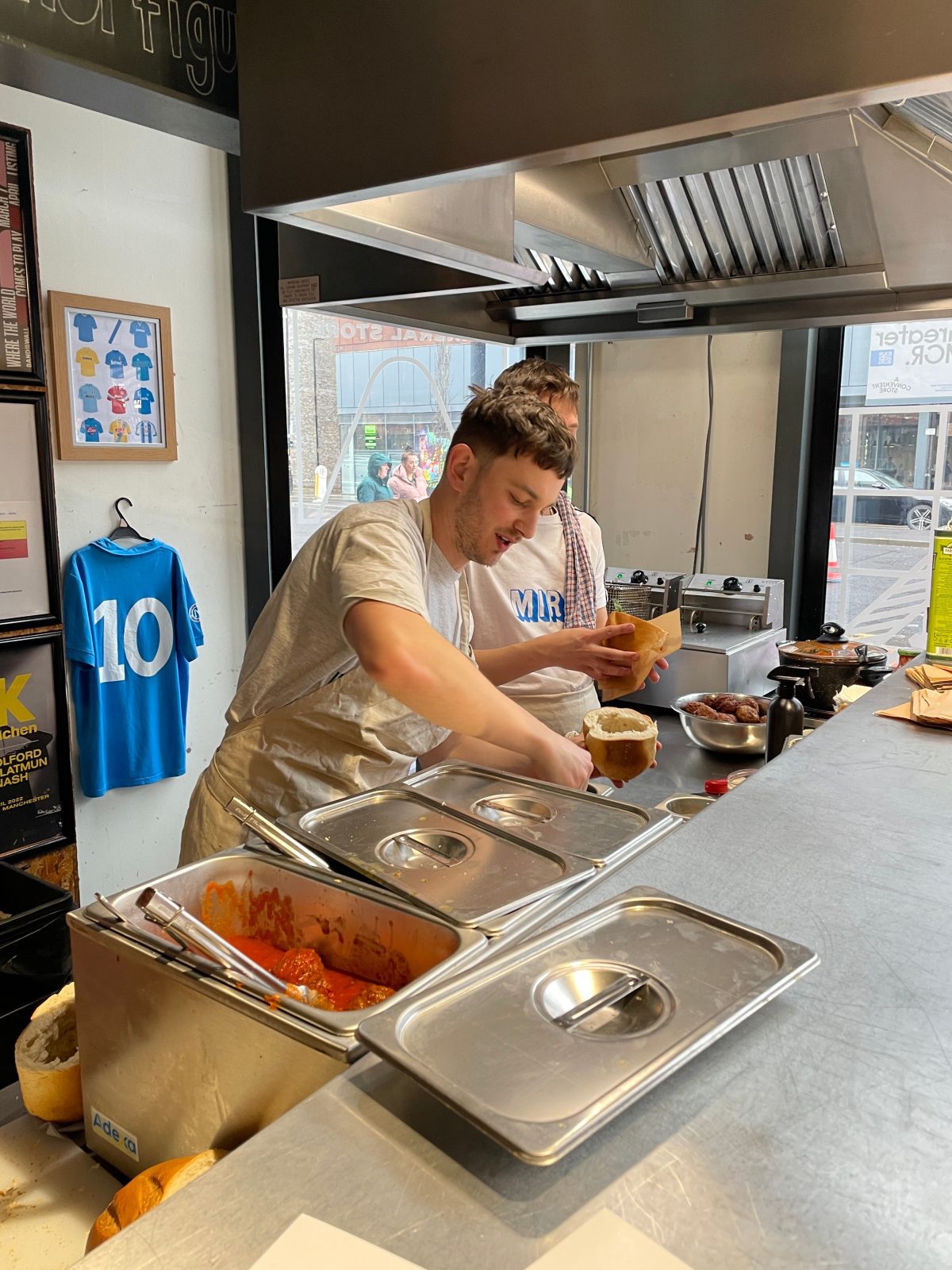 Mira's Neapolitan-inspired street food sandwiches have moved from The Crown and Kettle to Ancoats General Store.
"Cuzzetiello" sandwiches in sauce have become a hit with Mancs during lockdown – stuffed with giant meatballs, stewed beef brisket or juicy eggplant parmigiana.
The team added new lunch sandwiches to the menu for the move.
Made from homemade vegan brioche (a first for them), opt for a Lincolnshire sausage butty with tomato jam or a "vegan bacon hash" with added cheese sauce.
Read more: Mira's Sassy Neapolitan Sandwiches Are Coming to Ancoats General Store
57 Great Ancoats Street, Manchester M4 5AB
Pong and puck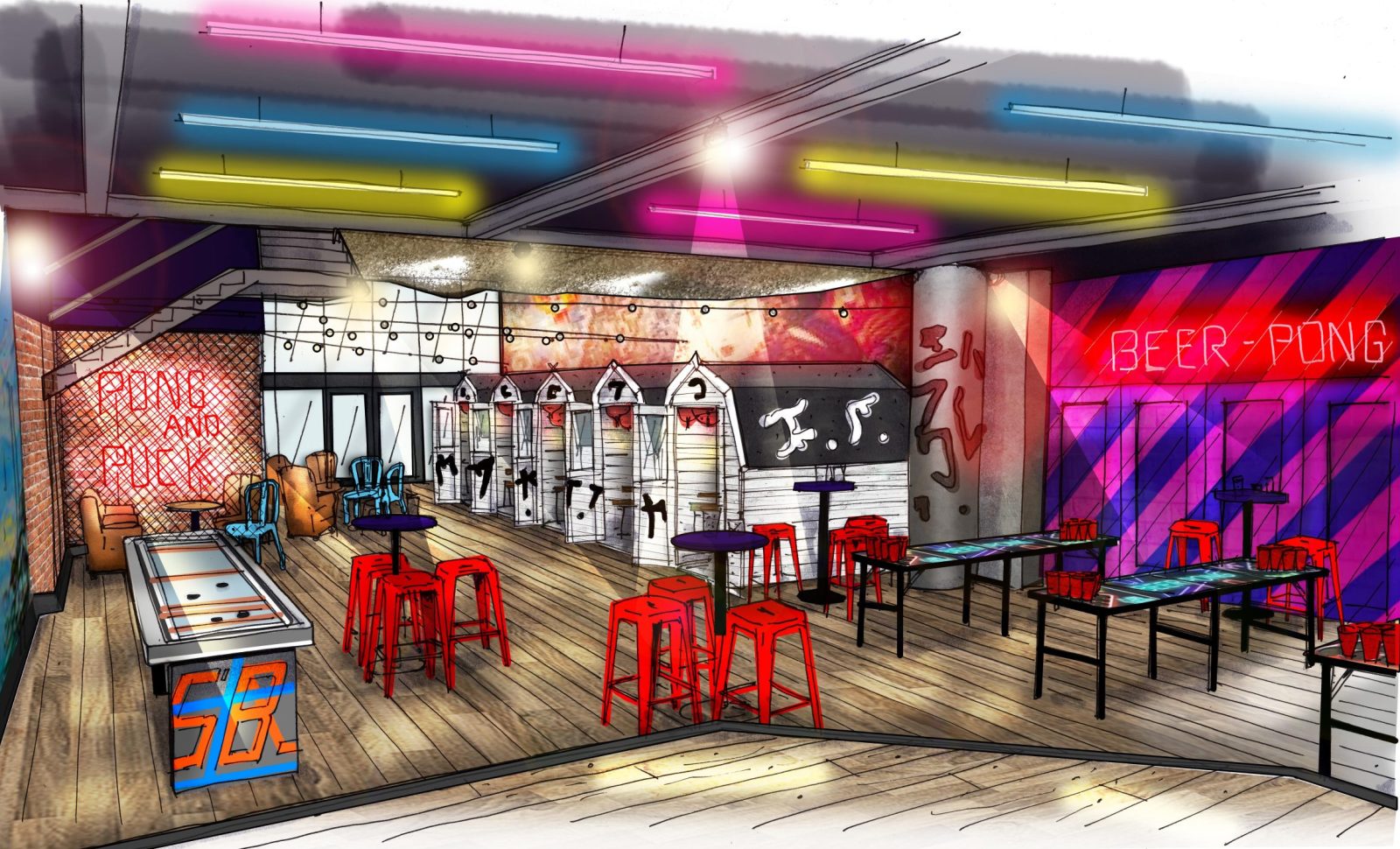 A new beer pong and shuffleboard bar, Pong & Puck opens this month inside the Great Northern Warehouse.
Specializing in beer pong, table tennis and shuffleboard, he comes from the team behind Bar Hutte, which brings alpine-inspired karaoke huts to town every Christmas.
Filled with neon signs, graffiti and murals, it will be pulsating with music from the 80s, 90s and 00s.
Reservations are taken from March 11.
Read more: Pong and shuffleboard beer bar opens in Manchester
235 Deansgate, Manchester M3 4EN
The Real Greek (Trafford Centre)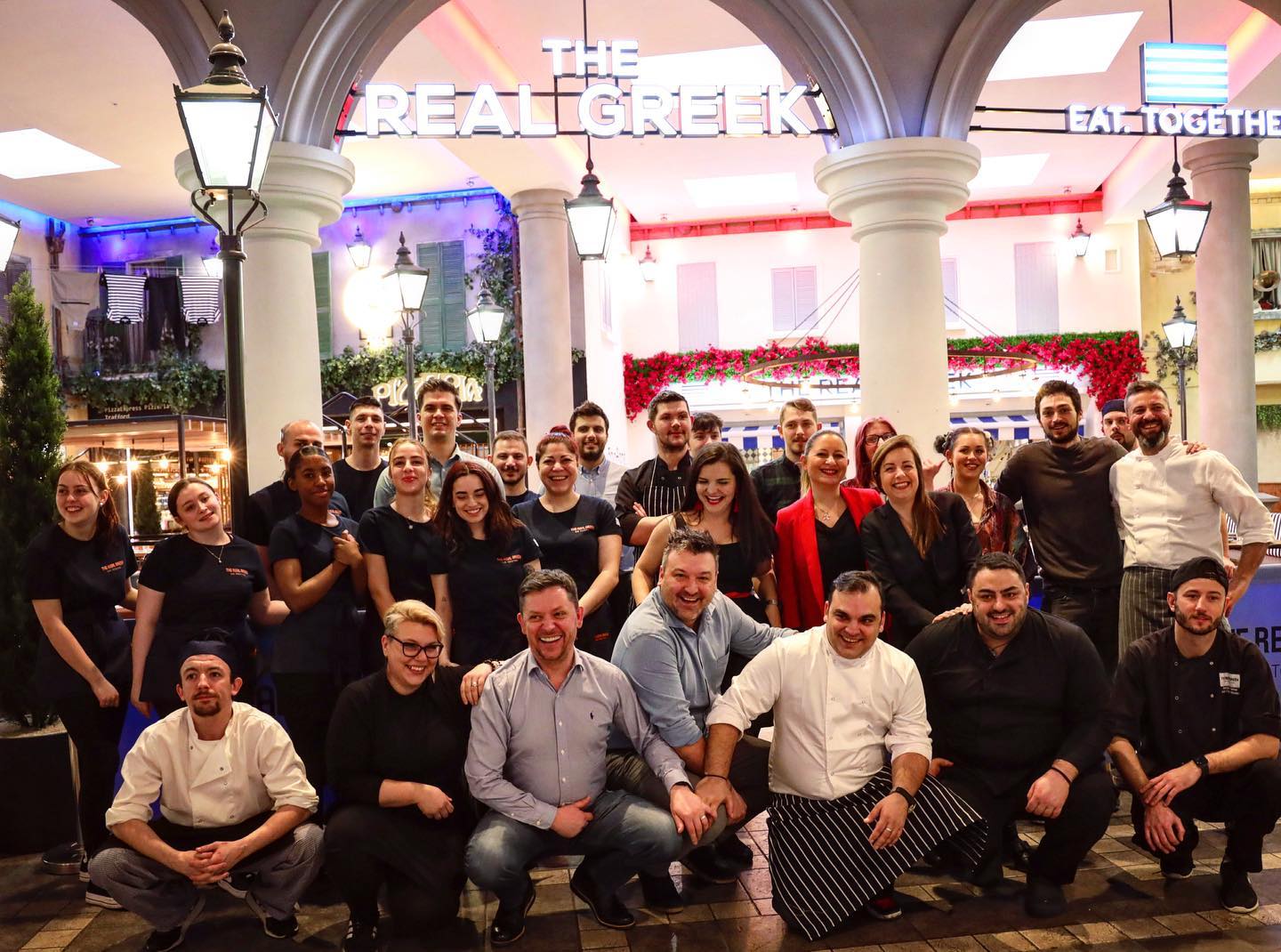 From the same company that owns Franca Manca, The Real Greek is incredibly popular in the south – now it's moving to Manchester.
It's the second venue to open here in as many months, meaning Trafford Center shoppers can now get their hands on its chip-stuffed souvlaki and halloumi popcorn.
Elsewhere, diners will find a good selection of Greek wines, hot and cold mezes, homemade baklava and Greek filo cream pies.
Unit R8B, The Orient, Trafford Centre, Manchester M17 8EQ
The Post Box Cafe and Shawarma (Chorlton)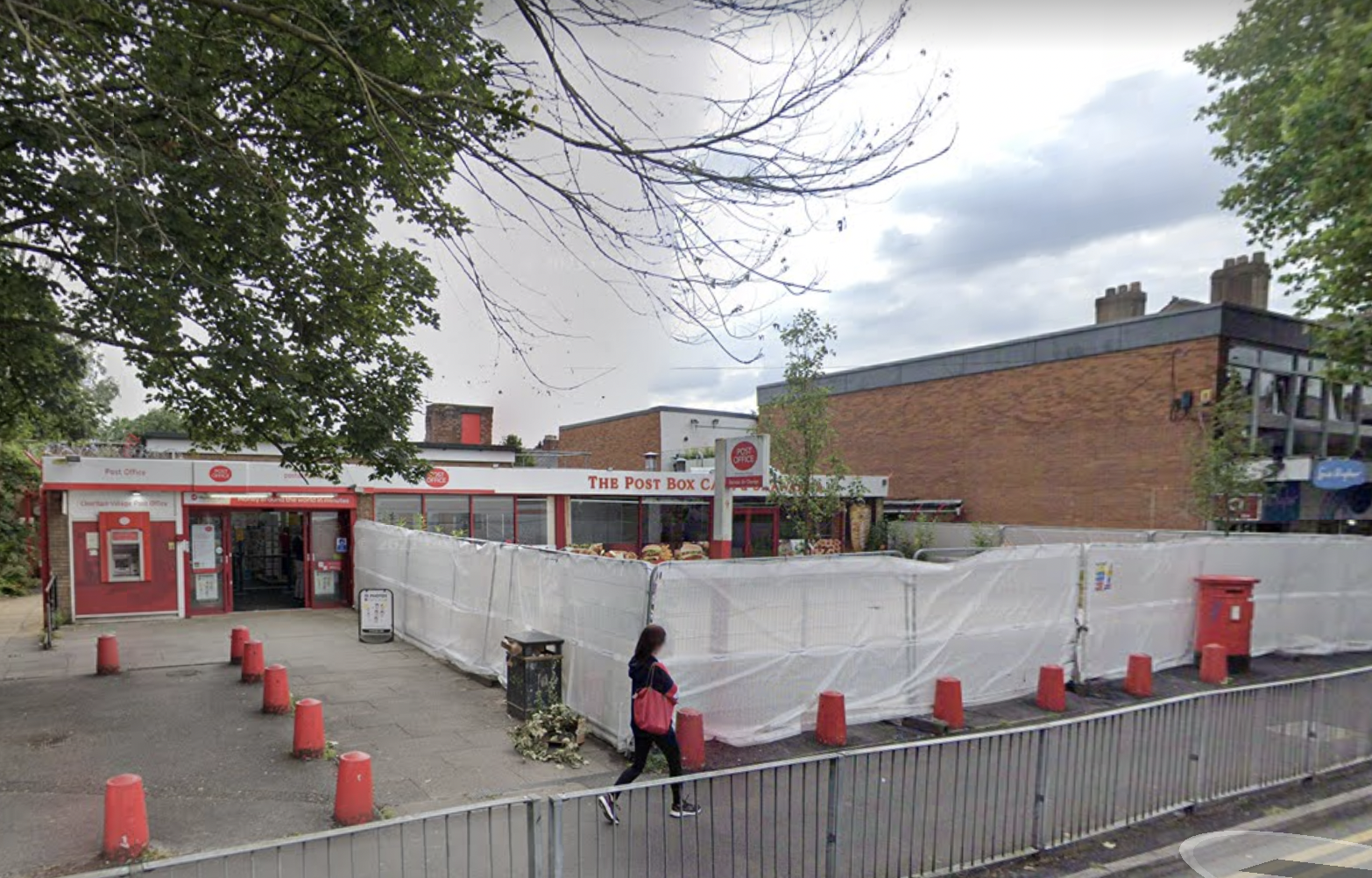 Attached to the post office on Wilbraham Road in Chorlton, this new shawarma spot has only been open for a week but is already making waves.
Served in super fresh samoons, a type of yeast bread popular in Iraw, shawarma topping choices include chicken, lamb or doner – all roasted on huge spits inside.
The meat is marinated well in advance according to a secret recipe, then served shredded on a spit with salad, hummus, tzatziki, cabbage and mixed olives (if desired).
You can also get all the usual takeaways here: burgers, fries, onion rings and pizza are also on the menu, but we feel like it's all about the shawarmas, really.
543 Wilbraham Rd, Chorlton-cum-Hardy, Manchester M21 9PP
O'Sheas Irish Beer Garden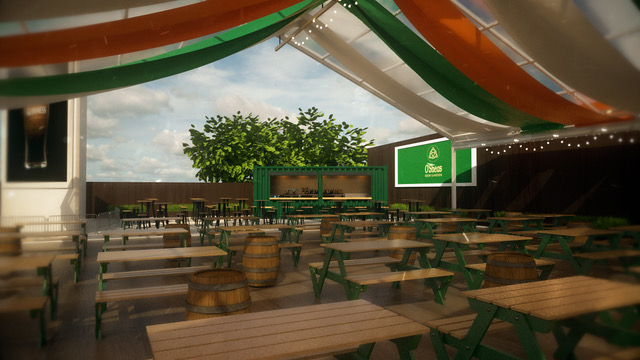 It was one of the biggest openings of 2021 – and now the giant O'Sheas Irish Beer Garden will return this month, this time with a covered venue.
Still a staggering distance from Piccadilly station, punters can expect ice-cold Guinness, pornstar martinis and espresso on tap, plus bagels and loaded fries courtesy of Eat New York.
Redesigned and draped in the colors of Ireland, a transparent roof above the rows of tables will keep revelers dry whatever the weather.
Read more: Manchester's massive Irish beer garden returns this spring
Another Hand (Deansgate Mews)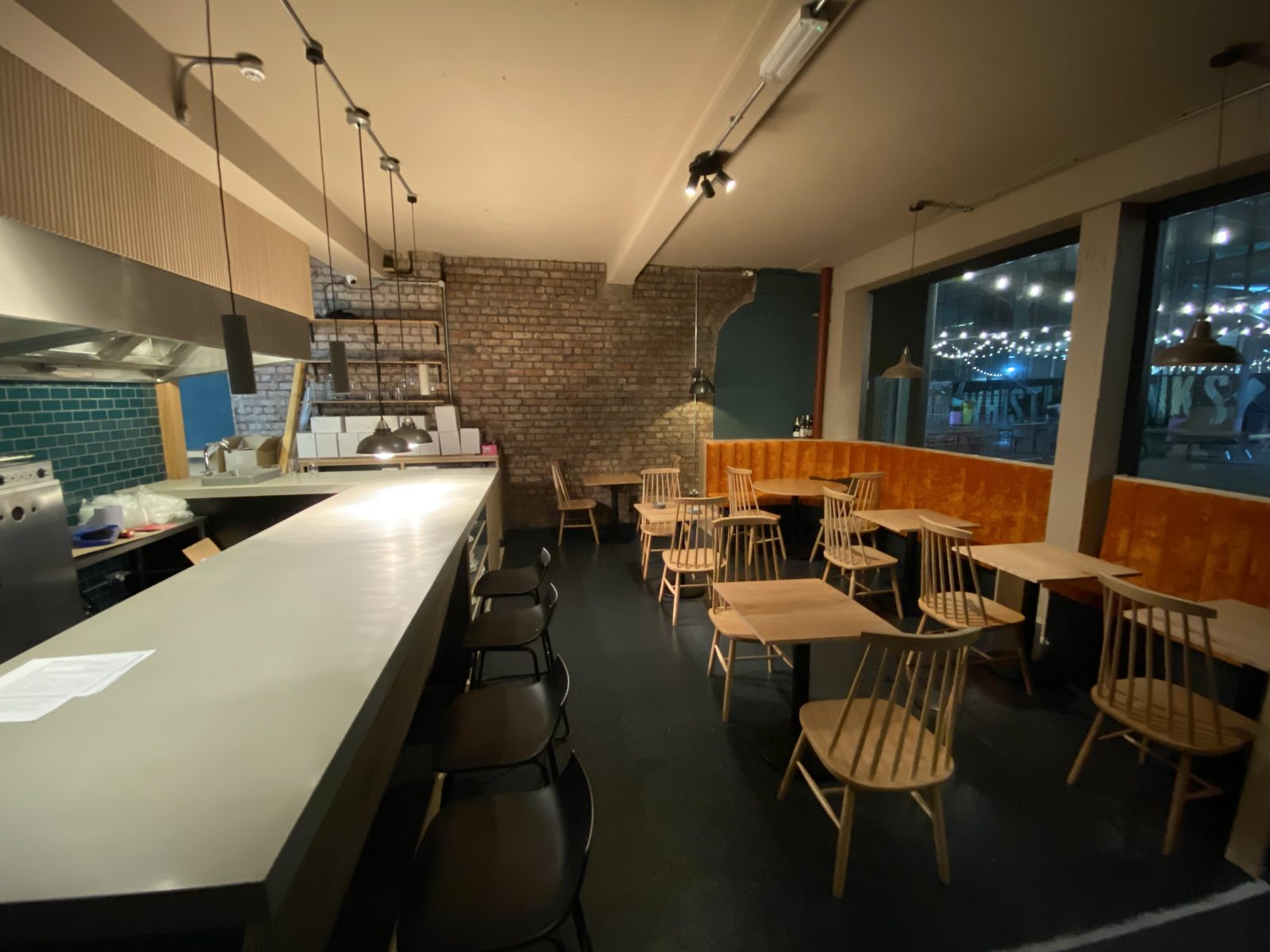 Another promising new addition to what may well be Manchester's most overlooked food street, Another Hand opens on Deansgate Mews from March 3.
Cheffed by Max Yorke, formerly of Hispi and Edinburgh Castle, the new opening sees him join Julian PIzer and Danny Foggo of Three Hands Deli to bring the project to life.
Serving a daily changing menu of seasonal small plates, the focus here is on the quality of the ingredients – the operators taking great pride in sourcing from the best local producers.
With room for just 24 covers, it will offer an intimate atmosphere and a predominantly vegetarian menu with sustainably sourced meat and fish dishes.
Food will be served with natural wine, craft beer, seasonal cocktails and coffee.
255 Deansgate, Manchester M3 4EN
tape on the wall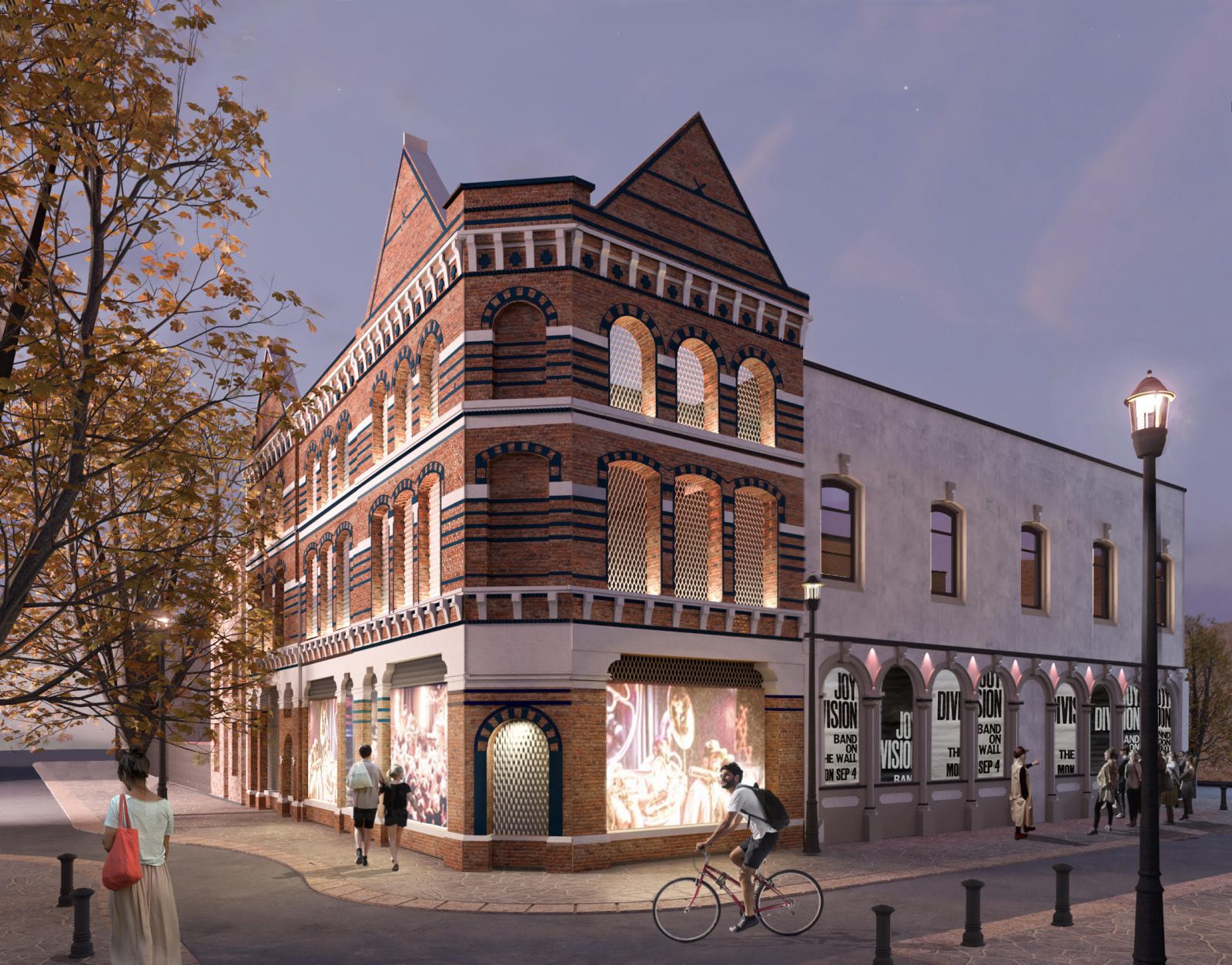 Band on The Wall reopens from March 10, following a massive £3.5million expansion project that has transformed the 200-year-old venue into a 'bigger and better' version of its old me.
Expect a bigger space on the ground floor, a new "big and ambient" bar and a second newly created bar and restaurant area, which will serve a menu of hot and cold dishes throughout the day.
The second bar area also includes a stage, perfect for small concerts. Elsewhere, an entire floor is now dedicated to the BOTW learning program with breakout rooms, a state-of-the-art audiovisual suite and large group space.
Read more: 40-year-old scaffold removed from Band on The Wall as it prepares to reopen 'bigger and better'
25 Swan Street, Manchester M4 5JZ
sticky fingers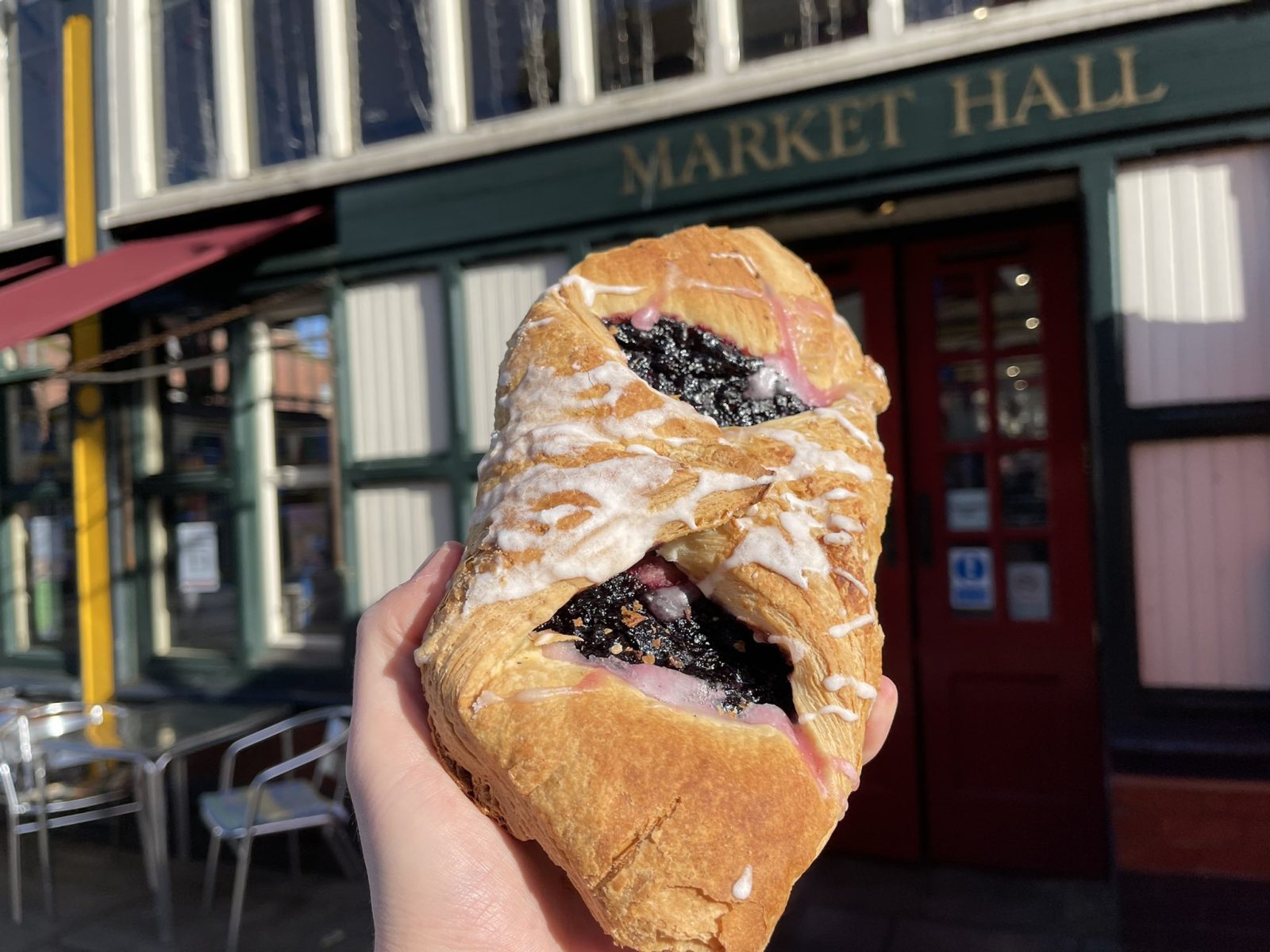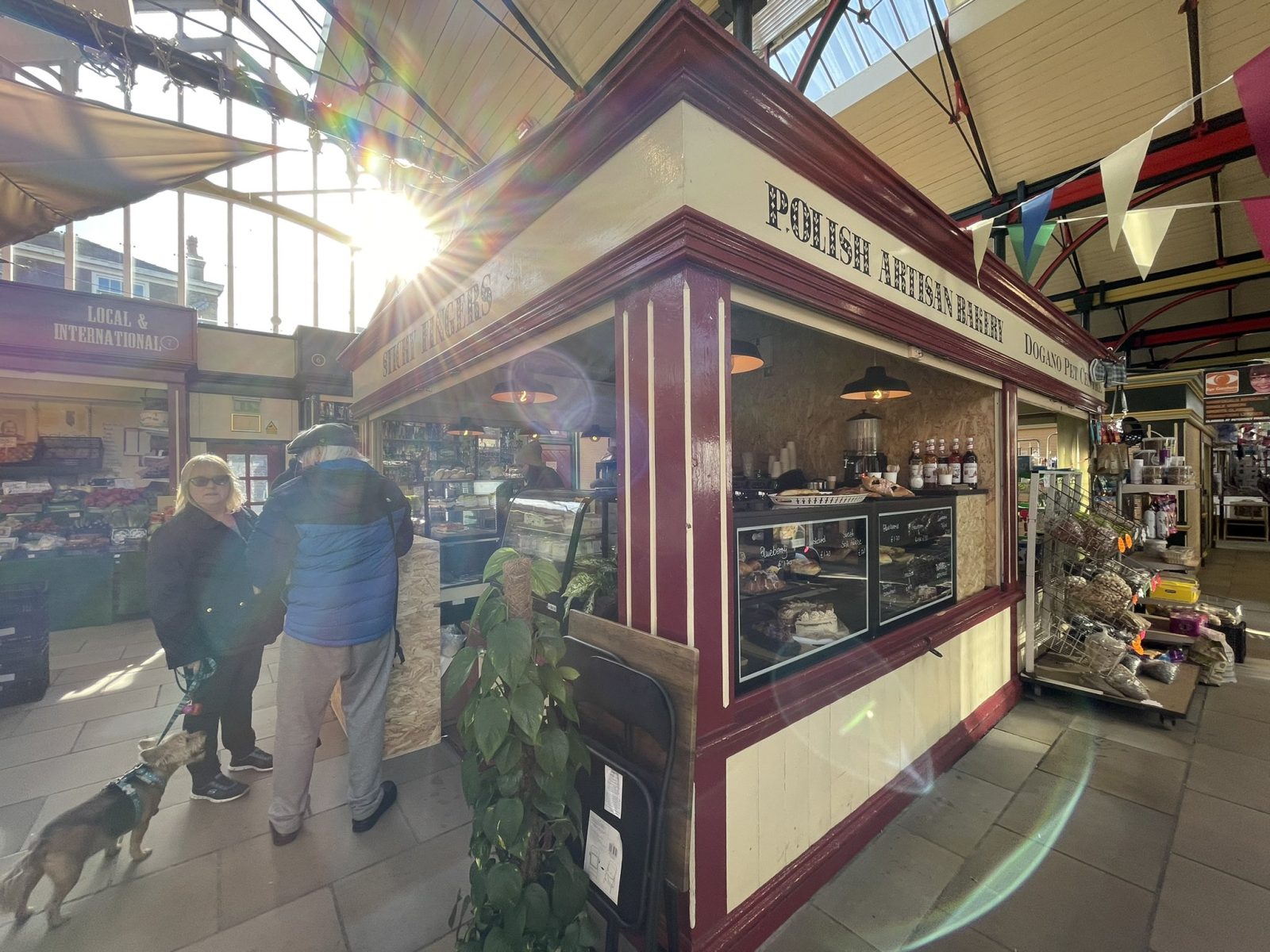 A new Polish bakery that just opened in Stockport Market this week, selling locally made breads, sweets and more.
Sweet tooths will find a wide variety of pastries for breakfast, all homemade every morning.
Everything comes out hot from the oven at 7am, with bread choices ranging from soft Challa to crispy Italian/
There's also a huge selection of high-end desserts to discover, so make sure you're hungry.
Market Square, Stockport SK1 1UN
NQ Dark Milk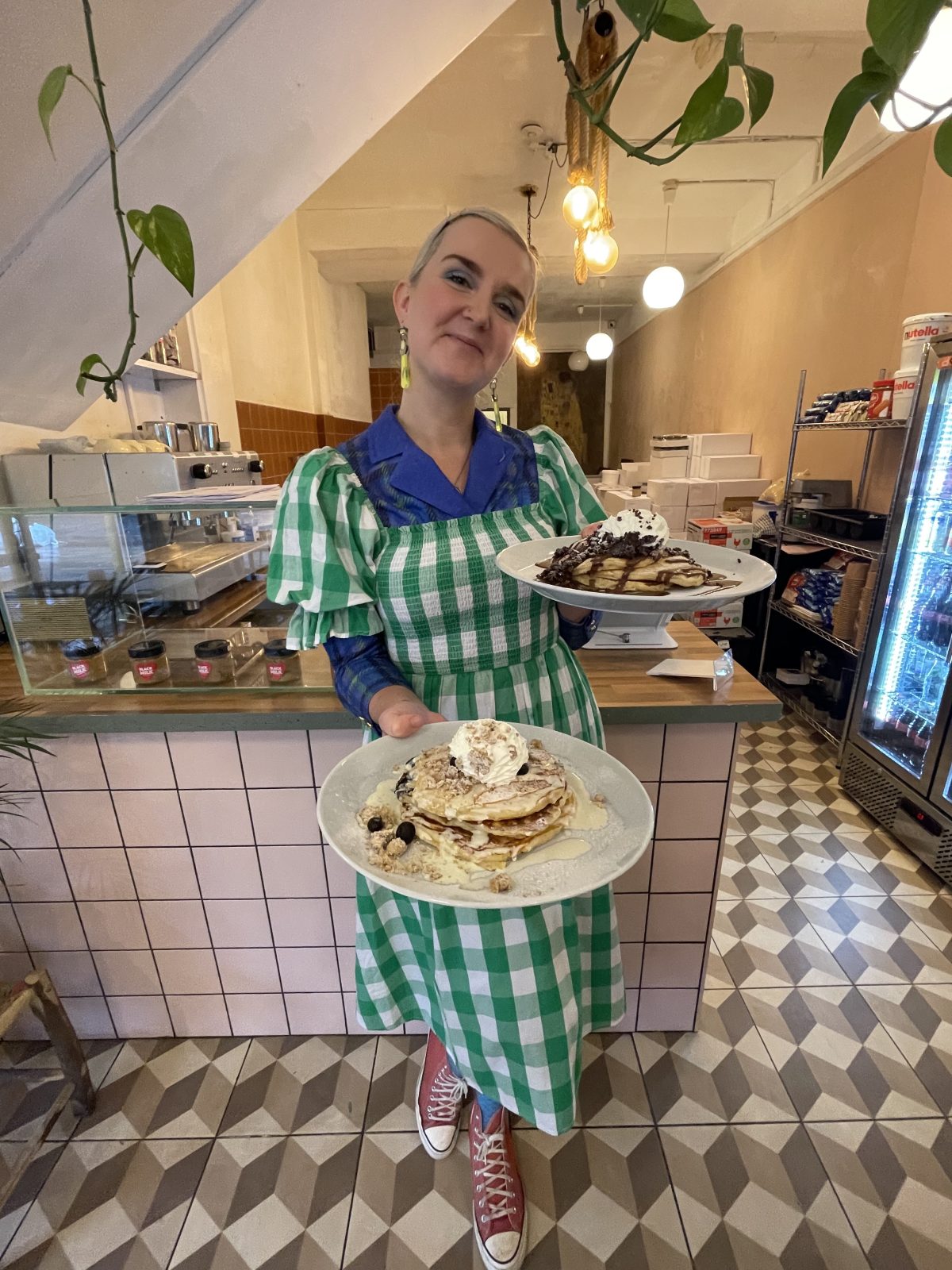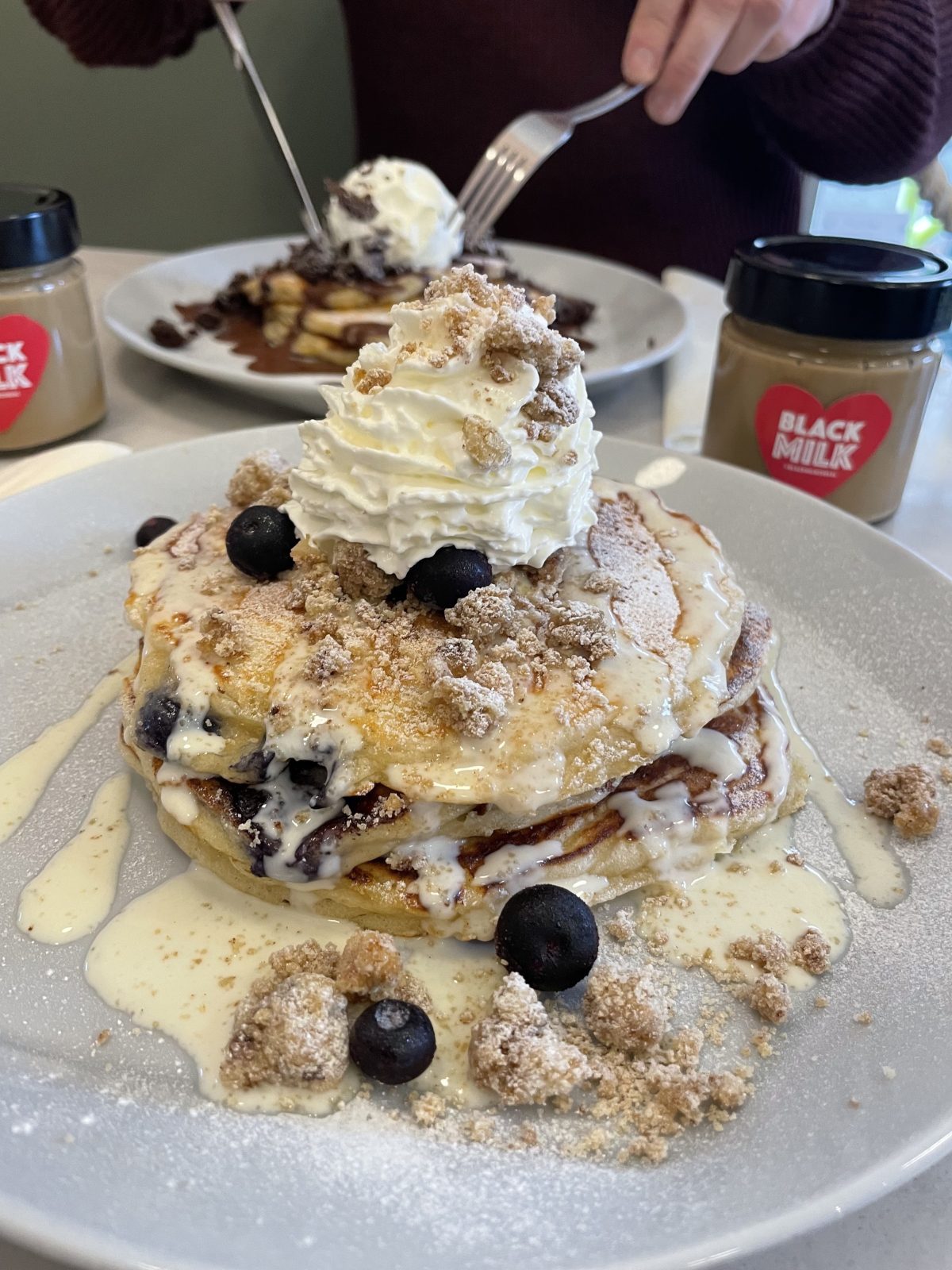 Manchester's favorite naughty dessert cafe has reopened after a two-month closure with a new look and new pancake menu.
Not content with celebrating just one day, the team extends Mardi Gras all week, serving delicious stacks of late-night pancakes loaded with blueberry crumble, maple syrup, Kinderella creme and hot fudge from 12 p.m. to 8 p.m. weekend.
After that, they'll be launching a new birthday-themed menu starting March 7 to celebrate the cafe's 7th anniversary with plans to introduce more cakes, cookies, gelato and brownies as the weeks go by.
Read more: Black Milk reopens with a new pancake menu after 2 months of closure
88 Oldham Street, Manchester M4 1LF
Feature Image – Provided
Source link