Getting a reservation for a restaurant on Walt Disney World property can be tricky. If you're planning a last-minute date, you might not be able to get a reservation for the most popular Disney restaurant. But that doesn't mean there aren't options. There are over 30 full-service restaurants at Walt Disney World, so the possibilities are endless and there's something for everyone. The following restaurants generally have reservation availability about a week in advance.
Underrated Restaurants at Disney for Romance
Jaleo by Jose Andrés
Location: Disney Springs
Best for: Lunch dinner
If you don't have Jaleo on your list of must-visit restaurants, this is your sign. This restaurant concept from award-winning James Beard chef, José Andrés, offers a menu packed with delicious spanish tapas. The restaurant's design is beautiful and makes a whimsical and colorful statement, with a moody and romantic ambiance, perfect for a date night.
Order one pitcher of sangria to start the date. The sangria here is outstanding and you won't want to stop at just one glass. Definitely order some Spanish staples such as croquetas de pollo and patatas bravas. For seafood lovers, the Spanish favorite paella is a must. It's a great place to order for the table and share.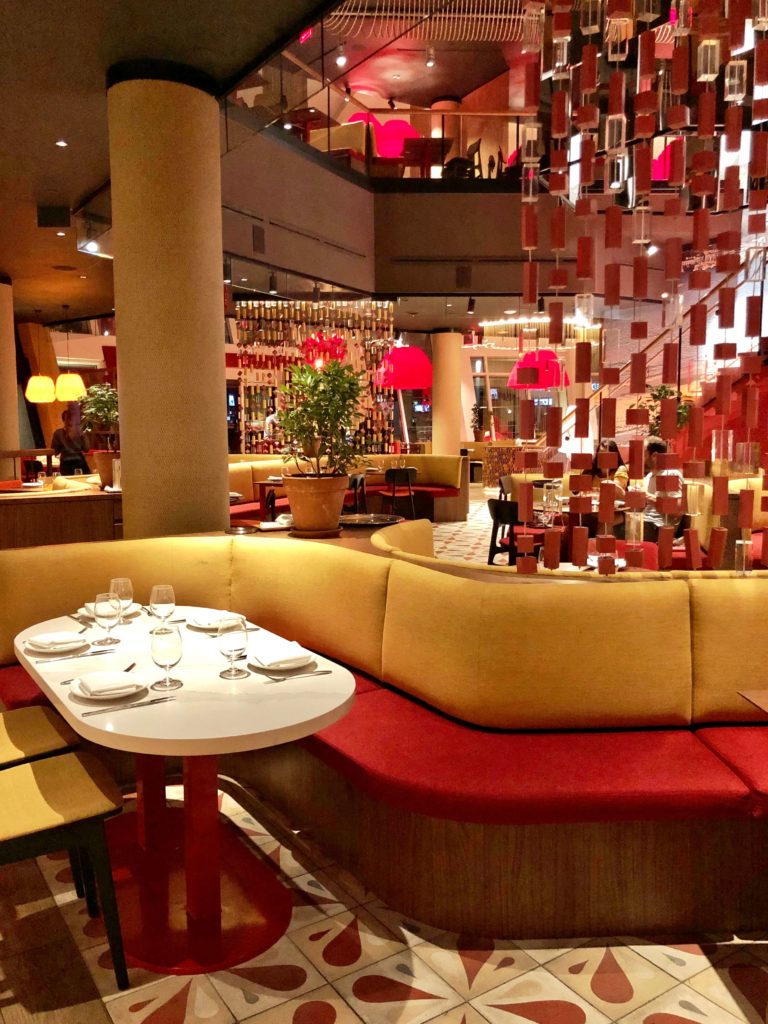 Trattoria al Forno
Location: Disney's Boardwalk Inn
Best for: Breakfast, dinner, Epcot fireworks after dinner
This is perhaps the most underrated restaurant in Walt Disney World. I visited for the first time last year and was blown away by the flavor of the food. We told our server to walk us through our selection of entrees and he suggested the lasagna. And wow, this is the best lasagna I've ever had in a restaurant. The portion sizes are generous and your taste buds will thank you. Be sure to ask for the free bread service. When I visited, bread service was not offered, but I asked our server about it and he said it was on request only. Trattoria al Forno is one of the few restaurants in Walt Disney World to offer outdoor diningso if the weather is nice, don't hesitate to ask the Cast Member on the podium for a table outside.
After eating all this pasta and bread you'll want to take a walk after dinner, and Disney's Boardwalk Inn is the perfect place for that. In fact, if you time it right, you might catch a glimpse of Epcot's fireworks show, Harmonious. It's a great way to make the evening even more special and create a date to remember.
Bluezoo by Todd English
Location: Walt Disney World Dolphin Resort
Best for: Having dinner
If you're looking for a seafood restaurant in Walt Disney World, this is the place. Bluezoo aims to bring you the freshest seafood and my experience here has been fantastic. The ambience of the restaurant is definitely geared towards adults, it is dimly lit and when you enter the restaurant you will first pass through a beautiful bar and lounge area. Because the Dolphin Resort sees more of a convention crowd, you'll likely find fewer kids at this restaurant.
The menu focuses on seafood and puts fresh fish at the forefront of the menu. My red snapper was perfect and I opted for a lobster claw to top the fish to take it to the next level. I highly recommend the Risotto 'Tots'. These are white truffle infused rice balls. Although they may look like an appetizer, they are listed as a side dish, and I almost missed them on the menu. Don't make this mistake!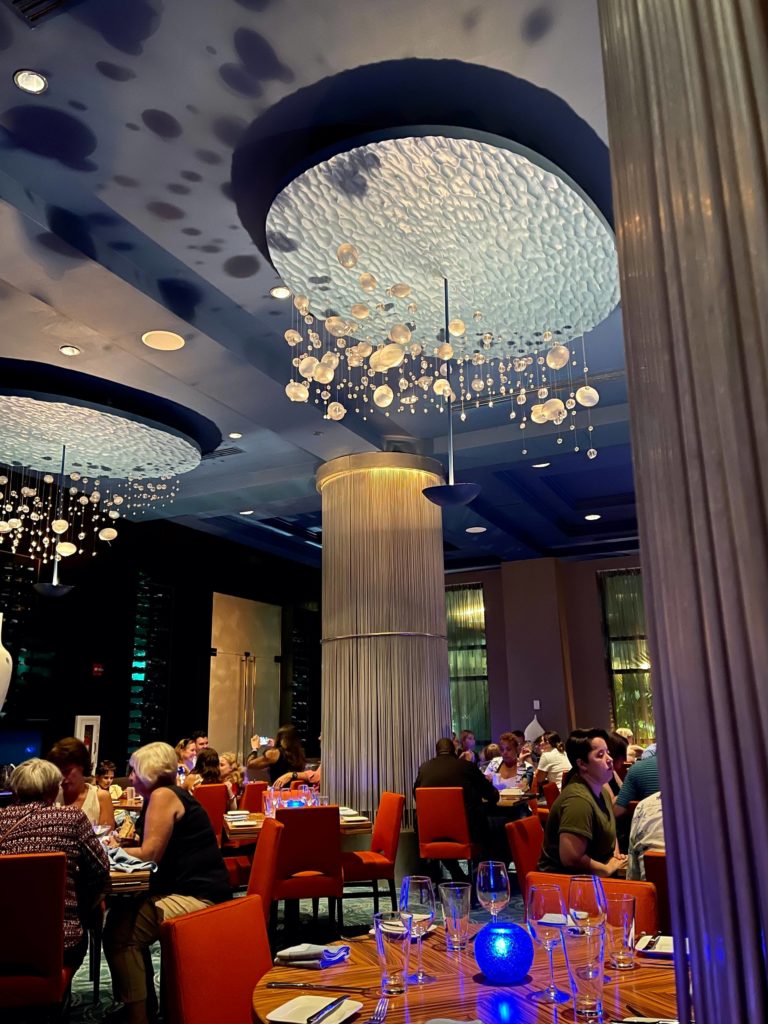 Related: How to Do an Epic Swan and Dolphin Food Exploration of Walt Disney World
Toledo
Location: Disney's Coronado Springs Resort
Best for: Dinner with fireworks
In recent years, rooftop restaurants have been popping up around Walt Disney World, and the ever-popular California Grille is no longer the only option for getting beautiful bird's-eye views from the most Earth magic. In my opinion, Toledo at Disney's Coronado Springs Resort is the most underrated restaurant in Disney World. During my two visits here I found it to be a fantastic experience with excellent service from dedicated Cast Members. Toledo offers a menu of flavors inspired by Spanish cuisine.
the vaulted ceiling of this restaurant takes center stage changing color throughout the evening. It is truly magical, very unique and there is nothing quite like it in Central Florida. The 16th-floor dining room windows offer sweeping panoramic views of Walt Disney World, and if the timing is right, you can spot harmonious fireworks displays at Epcot.
To top it all off, the restaurant offers delicious tapas, steaks and seafood. The menu includes the chef's signature dinner for two ($145.00) which includes tapas, a charcuterie and cheese plate, a huge fake -filet with bone and the superb "Toledo Tapas Bar Dessert". This four-course meal is more than enough for two and will provide a full taste of Toledo's menu.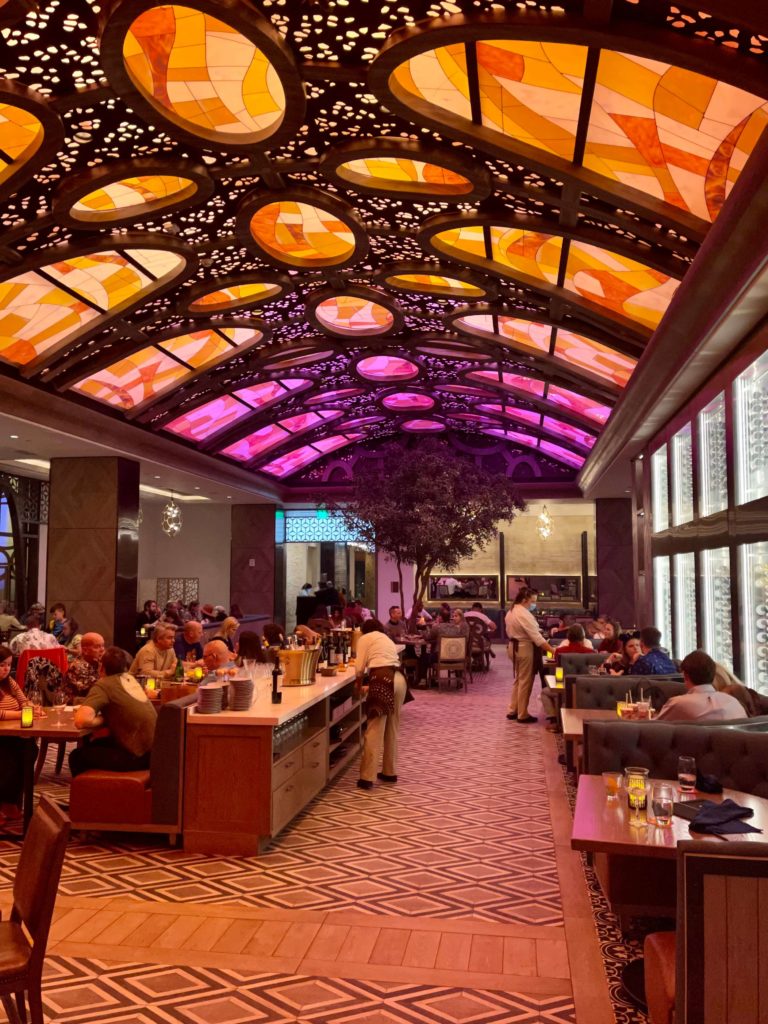 Beer and Compass
Location: Disney's Yacht Club Resort
Best for: Breakfast lunch dinner
Disney Imagineering reimagined this restaurant space several years ago and it's beautiful, with more elegant nautical touches than you'd expect from a Disney resort. If you are planning a brunch date, Ale and Compass offers a breakfast buffet which includes a selection of continental-style breakfast items as well as cheddar biscuits with peasant sauce and cinnamon rolls. The $23 price of the buffet also includes an entrée from the à la carte menu and a drink of your choice.
And, of course, Ale and Compass' breakfast menu features signature brunch cocktails such as a Mimosa and Bloody Mary. This restaurant location puts you in a great spot to walk to Epcot's other resort area hotels, such as the Beach Club, Boardwalk Inn, and Swan and Dolphin, or drive to Epcot itself for the continuous date.
Related: Most Romantic Places at Walt Disney World
Underrated Casual Restaurants at Disney
Skippers canteen
Location: magic kingdom
Best for: Lunch or dinner
Magic Kingdom tends to be unwelcome when it comes to food, but Skippers Canteen is a hidden gem, and you can normally find last-minute reservations at this highly themed restaurant. Skippers Canteen is in Adventureland, not far from the restaurant's inspiration, the Jungle Cruise attraction. This restaurant is a must for fellow adventurers. Those who remember The Adventurers Club from the days of Pleasure Island, part of what is now Disney Springs, will feel right at home at the restaurant. Skippers Canteen has several rooms with unique artifacts from around the world.
The menu is inspired by Asia, South America and Africa with something for everyone. Dishes include "Chicken Tastes" Because it is! and Dr. Falls signature grilled steak. Finish your meal with a tribute to The Adventures Club with Kungaloosh!, an African-inspired chocolate cake, named after the Adventurers Club's old greeting.
---
Related: What to do if you can't get a Disney restaurant reservation
---
Restaurant at the end of the trail
Location: Disney's Fort Wilderness Resort and Campground
Best for: Breakfast
Looking for a bit of adventure in the Wild Frontier? Ok, maybe not that wild, but you'll have a bit of adventure getting to Trail's End, especially as a guest not staying at the resort. But, hear me out, dining at Trail's End Restaurant will offer a date beyond just a meal. To reach Trail's End, you must first park at Fort Wilderness. You will then head to the station buses and look for a bus that will go to the "settlement". If you have any questions, just ask the bus driver and he will point you in the right direction. Once you arrive at the colony, you can easily walk to the Trail's End restaurant.
Breakfast ($19.99) and dinner ($29.99) are served family style. This is a set menu and your server will bring all items straight to your table, when you want more of something all you have to do is ask. I enjoyed the breakfast menu which includes pecan smoked brisket, cheesy potato casserole and more! Don't forget to order cocktails for breakfastlike the Pioneer Mimosa with Walt Disney World's favorite juice, passion-orange-guava.
After breakfast, head to the Tri-Circle-D Ranch, home of Walt Disney World horses. You can walk inside the stables and see a part of Walt Disney World that many don't even know exists. With a little planning ahead, you can even book a horseback riding experience or take a carriage ride through the wilderness.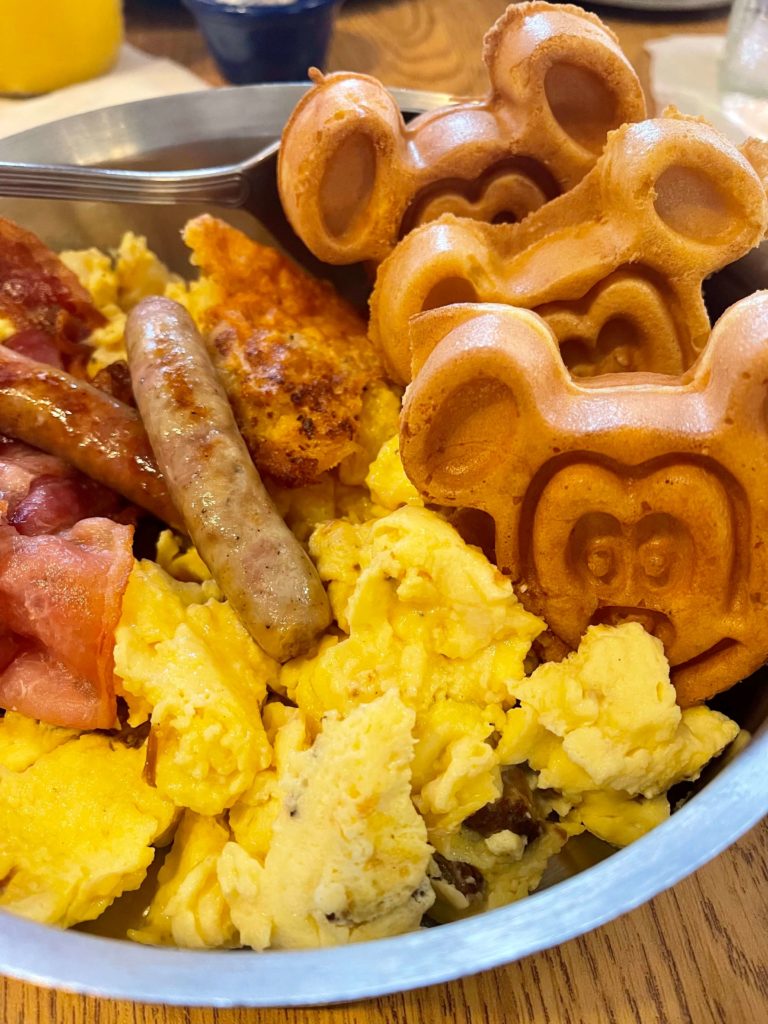 Sebastian's bistro
Location: Disney's Caribbean Beach Resort
Best for: Dinner with family
Sometimes the kids have to come for a date, or maybe you'd like a double date at Disney with some friends. Sebastian's Bistro at Disney's Caribbean Beach Resort is a great idea for both scenarios. The flair of the tropical islands will carry you away. And the dinner at will is a lot, compared to Disney prices. For $29 per adult, you can stock up on Latin and Caribbean flavors. After such a satisfying meal, take a romantic stroll in the Caribbean Beach Resort or next door to Disney's Riviera Resort.
Want more underrated fun at Disney? Most people know the thrill of a monorail exploration, but a Disney Skyliner pub crawl is certainly unique. And for more creative ideas, check out the most magical ways to celebrate a birthday or anniversary at Disney World.
All images by Brian Kirkwood (@briantreks)